seo | search engine marketing
---
Internet Expert Witness for SEO Litigation with > $94 Million awarded to clients: Domain Names, Online Reputation & Trademark Infringement
Argent Media provides expert witness support for lawsuits involving SEO (Search Engine Optimization), Internet Marketing, Internet Product Development, Trademark Infringement Cases, Internet Yellow Pages, Online Advertising (PPC advertising and Banner Ads), Domain Names, Mobile Webpages, Website Development, Copyright Infringement, Online Defamation, and more.
SEO Expert Witness • SEO Litigation Support • SEO Investigation & Analytics • Social Media Expert Witness • Links & Lawsuits • Online Reputation & Defamation • Domain Name Expert Witness
What is an SEO Expert Witness?
An SEO Expert Witness assists attorneys and their clients with cases involving where search engine optimization has been used, such as in trademark infringement and online defamation cases. SEO Expert Witnesses can explain how search engines function, how they index pages, and why they rank pages higher or lower.
Search Engine Optimization - SEO Expert Witness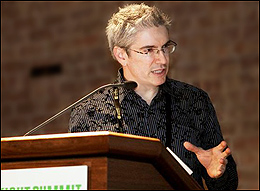 Chris Silver Smith, founder and CEO of Argent Media, is an expert in internet technologies. He created patented internet search technologies while working for Verizon, and was awarded Verizon's highest employee honor for his Search Engine Optimization work for the company -- the Verizon Individual Excellence Award. Smith has a long history of performing SEO consulting for Fortune 500 and Internet Retailer 500 companies, and has been frequently invited to speak at marketing conferences on aspects of search engine optimizations. Further, Smith has provided expert witness consulting services for litigation involving SEO and information technology subjects.

As a former head of a technology department within Verizon where he oversaw multiple teams working upon hundreds of projects, including partnership projects with Google, Microsoft Bing, AOL, InfoSpace, and Lycos, Smith is uniquely knowledgeable on a wide variety of topics involving search engines, internet product development, domain names, website design and programming, online analytics, internet marketing, and related topics.
SEO - Search Engine Optimization Litigation Support
Did a company use Search Engine Optimization to perpetrate trademark infringement? Or, did an individual use SEO in committing defamation upon your character or upon the reputation of your company? Did an SEO marketing agency fail to perform standard SEO when managing your account? Worse yet, was "Negative SEO" done to purposefully damage your company's ability to compete effectively and fairly in the online marketplace? We can provide investigation, analysis and expert witness testimony on these and other issues related to SEO.
Search Engine Optimization or "SEO" is a body of practices done in order to maximize a website's ability to rank well in search results for the keywords and keyword phrases that consumers use when researching and selecting products and services. Since Google and other search engines employ well over 200 signals in determining which page should rank higher than another for any given keyword query, there are a great many methods that can be used to optimize a webpage or website. These can range from the simple practice of insuring that the ideal keyword is included in the Title element of a webpage to creation of complex linking structures, taxonomic development, finessing of the code of webpages to include semantic markup, and changes to content management systems to transform or redirect the URLs of pages. External optimizations can include obtaining valuable links to point at the website, and even investing resources to build out a company's social media presence in order to enhane SEO efforts.
SEO Investigation & Analytics
How many people saw a webpage as a result of SEO development efforts? Once optimizations have been done, there are often questions around how effective the optimization was, and how many people viewed the page afterwards. We provide top analytics support services using Google Analytics or other major analytics systems. If a site has not installed an analytics system, we have experience in performing analysis directly upon server access log files in order to provide figures, too.
Social Media Expert Witness
Search Engines are increasingly using signals from social media activities for ranking factors now, since these sometimes can provide measurable indications for determining relative popularity of businesses, websites, and content. We can also provide analysis around how effectively social media campaigns were done in order to answer questions salient to lawsuits. How many followers increased for a social media profile as a result of promotional efforts? Of those followers, how many may be automated, false entities? How popular or influential is one social media account versus another?

Argent Media and Chris Silver Smith have experience with many of the top social media services, such as Twitter, Facebook, Google+, LinkedIn, Pinterest, Flickr, and more.
Links & Lawsuits
There may be no more sensitive area involved with search engine optimization than that of link-building, also referred to as link development. Ever since Google's PageRank algorithm research papers and patent emerged, knowledgeable webmasters attempted to obtain as many links as possible to point to their sites in order to pump up search engine rankings. But, fast forward to now and Google has become particularly effective at detecting "unnatural" links to sites, and either devaluing those links or penalizing sites for being involved. Has your site traffic suffered as a result of someone's link building efforts? Is someone liable for "SEO malpractice" for performing irresponsible link development? Or, has a competitor turned thousands of bad links towards you in an attempt to aim Negative SEO against your site's rankings?
Online Reputation & Defamation Expert Witness
The seeming anonymity of the internet has given many people license to attack the reputation of others online. Insults, harassment, porn revenge, defamation and mischaracterizations have impacted the impression made when one's name is searched upon in Google, Bing, Yahoo and other places. Chris Silver Smith has deep experience in evaluating online reputation attacks and assessing the costs of cleaning up negative content as a basis for damages in online reputation lawsuits. In some cases we've worked upon, our cyber investigation has uncovered even more negative attack activities than were readily apparent to the casual observer, and deeper ramifications of those actions.
Domain Name Expert Witness
Chris Silver Smith whetted his teeth policing domain names at Verizon, and identifying instances of typosquatting and cybersquatting. He has also authored professional industry articles involving domain naming strategies, the effects of domain names on search engine rankings, and assessed domain valuations. He has written on the practice of "domaining" (the niche industry devoted to speculative purchases of domain names for investment purposes), and he has worked as a domain purchasing agent and made million-dollar offers for highly-desirable short keyword domains.
Notably, Chris Silver Smith served as an SEO and Domain Name Expert Witness on behalf of Godaddy in defending the company against a lawsuit brought by the Academy of Motion Picture Arts & Sciences regarding a few hundred domain names that individuals purchased through the domain registrar which the Academy contended were trademark infringing. Few other domain experts have the depth of experience and direct knowledge of the inner workings of the domain industry and how it connects to websites, search engines and other related technologies.
SEO Expert Witness in: Seattle, San Francisco, Los Angeles, Denver, Chicago, Dallas, Austin, Houston, Nashville, Boston, New York, Florida, Vancouver, Toronto, London, Paris, Madrid, Berlin, Stockholm, Milan, Rome, Auckland, and Sydney.
Please write to us to inquire about our Internet Marketing Expert Witness Services: Contact Argent Media
Argent Media
Updated on 2019-01-16T15:25:23+00:00